Capacitor Contactor
SC-P25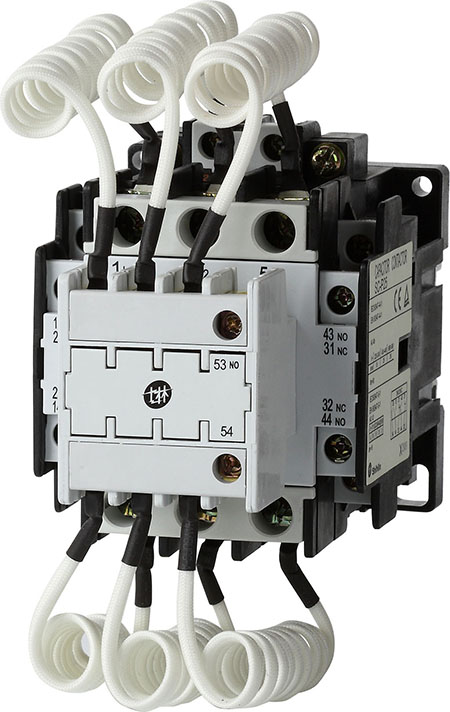 Rated capacity @220~240V → kvar / A : 15 / 39
Features
Applicable to rated voltage AC600V and below, with frequency at 50Hz/60Hz, and applied as a contactor for connecting and disconnecting low-voltage capacitors in parallel.
Contactor is equipped with current limiting resistor, which can suppress surge current output from capacitors when they are initially connected, which effectively reduce the impact of surge current to the capacitors and increase the life and reliability of capacitors.
Specification
Standard: IEC 60947-5-1, EN 60947-5-1, DIN VDE 0660, JIS C8201, JEM 1038
Mechanical / Electrical lifetime: 10 / 0.3 (Million)
Auxiliary Contact: 3NO 2NC
Breaking Capacity
Rated capacity:
AC-6b

3Ø

kVar / A

200~240V

15 / 39

400~440V

25 / 33

660~690V

36 / 30
Certification

Related Products

SC-P20

---

Rated capacity @220~240V → kvar / A : 10 / 26

---

SC-P33

---

Rated capacity @220~240V → kvar / A : 20 / 48

---

---

Files Download

---
Best Sale
Over 60 Years of Capacitor Contactor | Electrical Equipment Manufacturing and Supply | Shihlin Electric
Based in Taiwan, Shihlin Electric & Engineering Corp. is one of the leading Capacitor Contactor | electrical system and electrical equipment suppliers since 1955.
With the large distribution network, including Taiwan, North America and China, Shihlin Electric's electrical distribution system is well-recognized internationally.
From circuit breaker, magnetic contactor to automatic transfer switch, Shihlin Electric's low voltage power distribution system is innovative and continuously gaining visibility from worldwide buyers.
Shihlin Electric has been offering advanced technology in heavy electrical systems, electrical equipment, machinery and automation for a long time, both with skillful technology and 60 years of power distribution experience, Shihlin Electric ensures each customer's needs are met.