Automatic Transfer Switch
PC class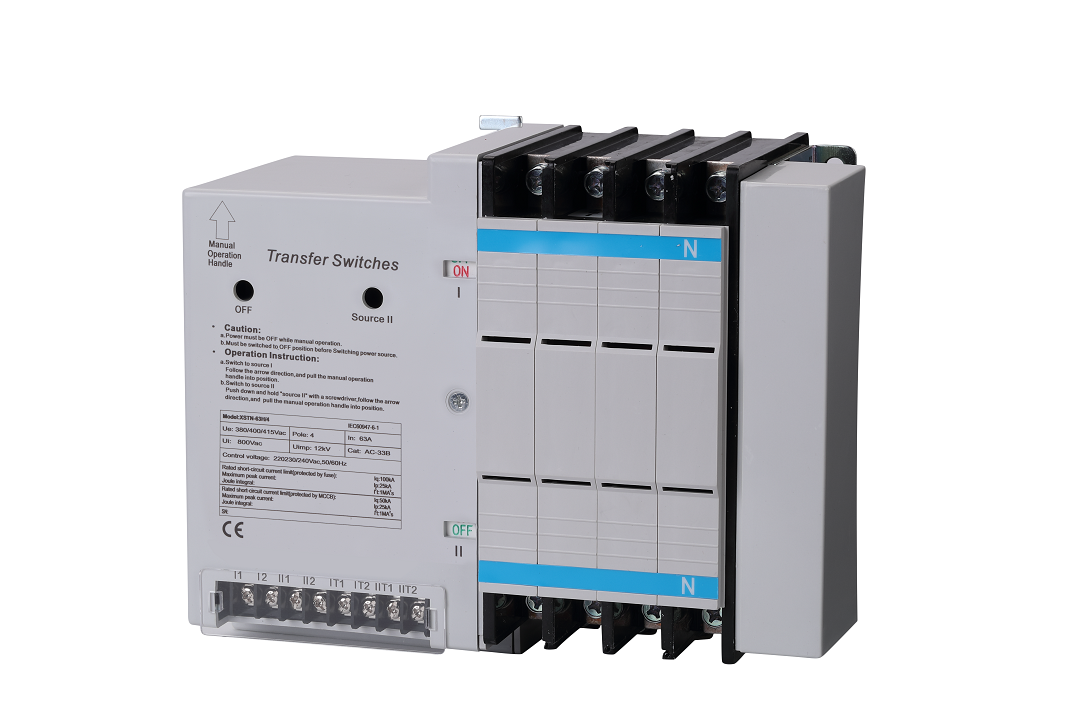 Rated Current: 16~5000A
Features
Reliable mechanical interlock: Unique structure, ensuring only one set of power source can be input at a time.
Superior arc suppression performance: Eliminated all kinds of abnormal arc and shorten the duration, reduce contact consumption.
Multi-piece main arc contact: Increase surface contact area and contact pressure, avoiding overheating or contact melting, increase contact lifespan.
Simple structure with small volume: Reliable to use, low failure rate, easy installation, use and maintenance
Fast switching time: Prompt switching time between main power source and backup power source. Switching time can also be set by user.
Specification
Standard: IEC60947-6
Frame size (AF): 63, 125, 250, 500, 800, 1250, 2500, 5000
Poles: 2P / 3P / 4P
Rated Current (A): 16~5000
Rated Voltage (Ue): 2P: AC220 / 230 / 240V, 3/4P: AC380 / 400 / 415V
Controller: XST-5 / XST-6 / XST-6H
Certification

Related Products

PC class- controller

---

XST-5: Standard XST-6: Mulitfunction

---

MCCB type

---

Rated Current: 10~1600A

---

---

Files Download

---
Best Sale
Over 60 Years of Automatic Transfer Switch | Electrical Equipment Manufacturing and Supply | Shihlin Electric
Based in Taiwan, Shihlin Electric & Engineering Corp. is one of the leading Automatic Transfer Switch | electrical system and electrical equipment suppliers since 1955.
With the large distribution network, including Taiwan, North America and China, Shihlin Electric's electrical distribution system is well-recognized internationally.
From circuit breaker, magnetic contactor to automatic transfer switch, Shihlin Electric's low voltage power distribution system is innovative and continuously gaining visibility from worldwide buyers.
Shihlin Electric has been offering advanced technology in heavy electrical systems, electrical equipment, machinery and automation for a long time, both with skillful technology and 60 years of power distribution experience, Shihlin Electric ensures each customer's needs are met.